---
The next of Karen Martelletti's Improver Lessons will be on Competitive Bidding at the Mt Bridge Club on Tuesday, 7th August at 1pm. The same lesson will be at the Tauranga Bridge Club on the same day at 7pm. Table money $5.
The Mt Maunganui Intermediate, Junior and Novice Tournaments will be held at the Mt Bridge Club on Saturday 21st July.
Intermediate & Junior - 2 sessions, starting 10am, morning tea 9.30. Enter through NZBridge Tournament page or add names to the list at the club.
Novice - 1 session, starting 1.30pm. Enter on club website under 'Events' above or add names to the list at the club.
Well done to Don Espie & Stu Dumbleton on their 3rd placing at the Tauranga Junior Tournament on Saturday 7th July.
After 4 rounds the final results are
1st - Kate Terry & Judy Pawson (Tga)
2nd - Linley Hay & Helen Heuvel
3rd - Stephen Searle & Jane Searle (Whakatane)
The following teams have been selected to represent the club at Rotorua on 29th July.
Junior - Robyn Knight & Judy George, Phil & Gill West
Intermediate - Gilda Rowland & Ruth Sweatman, Joe Brown & Mary Girvin
Open - Linley Hay & Bruce Inglis, Carolyn Parker & Nick Comber
Good luck to you all.

Multigrade TeamSeveral of our members braved fog and cold weather to travel to Te Aroha on Saturday 30th.
Multigrade - 1st - Pamela Pedersen, Melanie Rex (Tga), Brian Sullivan & Brian Gallaher (Waikato)
Open - 2nd - Julie Sheridan, Karen Martelletti, Kate Terry & Judy Pawson (Tga)

Open Team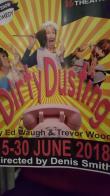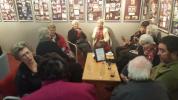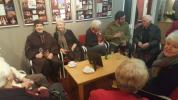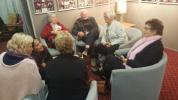 It was a great night, there was a lot of laughter and it was great to do something else together outside of Bridge. Also, a huge thank you to Mike for organising the evening and congratulations to Denis Smith who directed the entertaining performance.
Congratulations to the following members
Jenny Fraser - Junior Winner
Phil West - Junior Runner-up
Wendy Bowden - Novice Winner
Vivian Mead - Novice Runner-up
Congratulations to Bruce Inglis and Stephen Francks (Tga) on their second place at the Rotorua Open on 23rd June.
The 3rd round of the 2018 Bay Pairs was held at the Mt Bridge Club on Sunday 10th June.
1st - Linley Hay & Helen Heuvel
2nd - Joy Bates & Amanda Smith
3rd - Jane Searle & Stephen Searle
4th - Marion Kelly & Julie Sheridan
Best non open pair - Derek Moores & Eric Dillon