---
The 2019 Programme is available under 'Articles'.
Page 20 - Friday Life Member's is a Pairs not a Singles competition.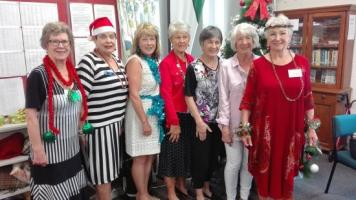 Committee Girls - L to R - Anne, Patty, Gilda, Elaine, Julie, Robyn, Carol
More photos in 2018 Christmas Party and Prizegiving in 'Galleries' above.
Prizelist attached.
Once more our two neighbouring clubs - Tauranga and Te Puke - and us will coordinate lessons for 2019.
Lessons will commence in the week 4 March and the first lesson at Mount Club will be THURSDAY 7th. As you all know, lessons have been extremely well patronised and popular in the past few years and we're sure 2019 will be no exception.
Please remember to mention the upcoming classes to anybody you feel may be interested (and shortly to be addicted!). Flyers will be printed shortly so please display on your car and pop onto any noticeboard you come across.
Our AGM will be held on Wednesday 13 February at 6.14 at the Clubrooms.
Please look in the Committee Minutes file to see the Minutes from February 2018.
1.00pm Monday 7th January
1.00pm Monday 14th January
1.00pm Monday 21st January
7.10pm Wednesday 9th January
7.10pm Wednesday 16th January
7.10pm Wednesday 23rd January
Please be seated 10 minutes before start of session.
Table money $5 for visitors.
Partnership Steward - Gloria Mouatt Phone 544 1834
We'll be holding our charity week again this year, from Monday 10 December to Friday 14 December for all our usual sessions. Table money will be $5 for everyone with all proceeds going to Sailability Tauranga Charitable Trust.
Quite a few of our members attended the 2018 National Congress. Doing well were
Judy Waldvogel and Mary Girvin - 3rd Intermediate Swiss Pairs
Dot Skousgaard and Heather Melville (Tga) - 6th Senior Pairs
Graham Stern and Alan Parkes (Hamilton) - 10th Same Sex Pairs
Well done to all those who attended