---
Another great tournament put on by the Cambridge Bridge Club. Our girls (7th Heaven) take out the best costume prize again (for the 3rd year). Also featuring in the costume prizes were PURRRRR.
7th Heaven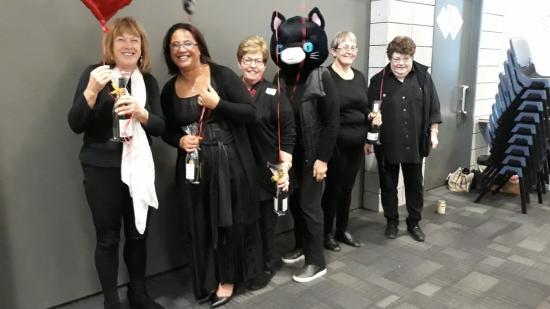 PURRRRR
Please feel free to view this interesting new appointment for Richard Solomon and innovation for New Zealand Bridge.
Are now in the NZB folder for your information.
Waikato Bays Junior and Intermediate Championship Leagues
Well done to our members who were among the prizewinners at our Tournament. Full list of results in 'Results' above.
Intermediate
4th - Diane Rodger & Annie Barry
7th - Brenda Macfarlane & Judith Wilson
8th - Bob Callcut & Ruth Sweatman
9th - Robyn Knight & Judith George
Junior
6th - Jane Larsen & Kathy King
Novice
2nd - Emma Barber & Michele Larnder

Diane & Annie

Bob & Ruth
Are now in the Minutes folder for your information.
Congratulations to Joe Brown and Bob Callcut on their 3rd placing at the Hamilton Intermediate Tournament.
Please look in the NZ Bridge folder for the Draft Minutes of the National Conference, and also our Regional report to the Conference.
Are now in the NZ Bridge folder for your information.