---
Several of our Intermediate players played in the Katikati Intermediate on 19th May.
Well done to Judy Waldvogel and Janice Simpson (Tga) who finished 2nd, Patty Spencer and Lyn Bailie 4th and Ronelle Middleton and Julie Downs 6th.
Due to a technical problem we are currently unable to post session results on the website. Hopefully it will be sorted soon.
Should be all sorted now. Thanks Bob. Please let us know if something is still not right.
Two days of play at Tauranga have produced our 16-strong IP squad to contest the 2019 Inter-Provincial event in Christchurch on November 23rd. In the Opens we have Yuzhong Chen and Noel Grigg accompanied by Tom Winiata and Tom Henwood. The Womens team will be comprised of Christine and Jenna Gibbons along with Kate Terry and Judy Pawson (selected) while the Seniors are Julie Sheridan and Karen Martelletti accompanied by Ella Gray and Michael Neels - the only non-grandmasters in the make-up of these three teams.
Congratulations to Jill Stewart & Kathy Abel on their win at the Matamata Junior Tournament. Well done girls.
The Minutes from the March meeting of the Board of Directors is now in NZB News folder for your information.
Are now in the Committee Meetings folder for your information.
If you are looking for a partner for an upcoming event why not try using our 'Partnering' page above. You will need to set up a profile first. There are also our Partnership Stewards. These are shown on the top of the page of your programme book for each of the different sessions.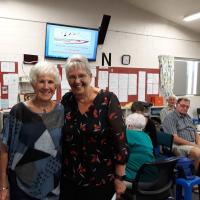 Dot & Margaret
There were 21 tables for our Multigrade Tournament on 13th April. Many of our members were among the prizewinners.
1st Open/Intermediate, first overall and winners of the Tom Uden trophy for best Mt Pair at our 3A Tournament - Dot Skousgaard and Margaret Guy
2nd Open/Intermediate - Bob Callcut and Sarah Stacey
4th Open/Intermediate - Kay Wright and Lyn Bailie
1st Junior/Junior - Teri Logie and Gill West
1st Intermediate/Intermediate - Anne Clarke and Chris Gibson